Warning: this post contains nerdy marketing lingo
I have been a huge believer in email marketing for many years!
I started my practice in 2008. In 2009 I signed up with MailChimp and started sending out a parenting newsletter to my 38 subscribers. 🙂
I really didn't know what I was doing, but I was eager to learn. I wanted to grow my practice and I knew I needed some way of keeping in touch with my current and potential clients.
I have now been sending my parenting newsletter for 10+ years and I have seen some amazing results. 
I switched to ActiveCampaign a couple years ago because I wanted to build an online business selling parenting courses.
I also wanted to be able to do some nifty things like more complex marketing automations, nurture sequences and tag based list segmentation.
Note: don't worry if you don't know what any of those things are! Take my word for it, ActiveCampaign can do just about anything you need it to do and more.
Disclosure: Some links in this blog post are affiliate links. This means that at no additional cost to you, I may get a commission if you make a purchase. Thanks for your support in this way!
Need help with email marketing? Check out our handy cheat sheet to help you create an effective email marketing strategy!
How it makes my life easier:
Email marketing software is handy because I can write all my marketing emails for a whole month and schedule them to send out at specific times. Automation win!
It also automatically does a spam check to make sure my emails get delivered.
ActiveCampaign makes it super easy to create automations that can accomplish just about anything I want to do. More on that in a minute.
I can also create opt-in forms to put on my website like the one below this post! I could mention many more things, but that is a good start.
What I love:
Clean and functional user interface
Tagging system for segmenting my list based on purchases or other actions
Powerful marketing automation features – see example below
Easy to schedule all my emails ahead of time
Reasonably affordable
More features to grow my business when I am ready (CRM)
Example of an automation sequence:
This is what happens when someone subscribes to my email newsletter. Two tags get added, a welcome email is sent, the automation waits one day, checks for another tag to see if the person bought my online course and then it sends one more automated email.
Disclaimer: this is more complicated than what most private practice owners want or need to do.
Click the image below to enlarge it.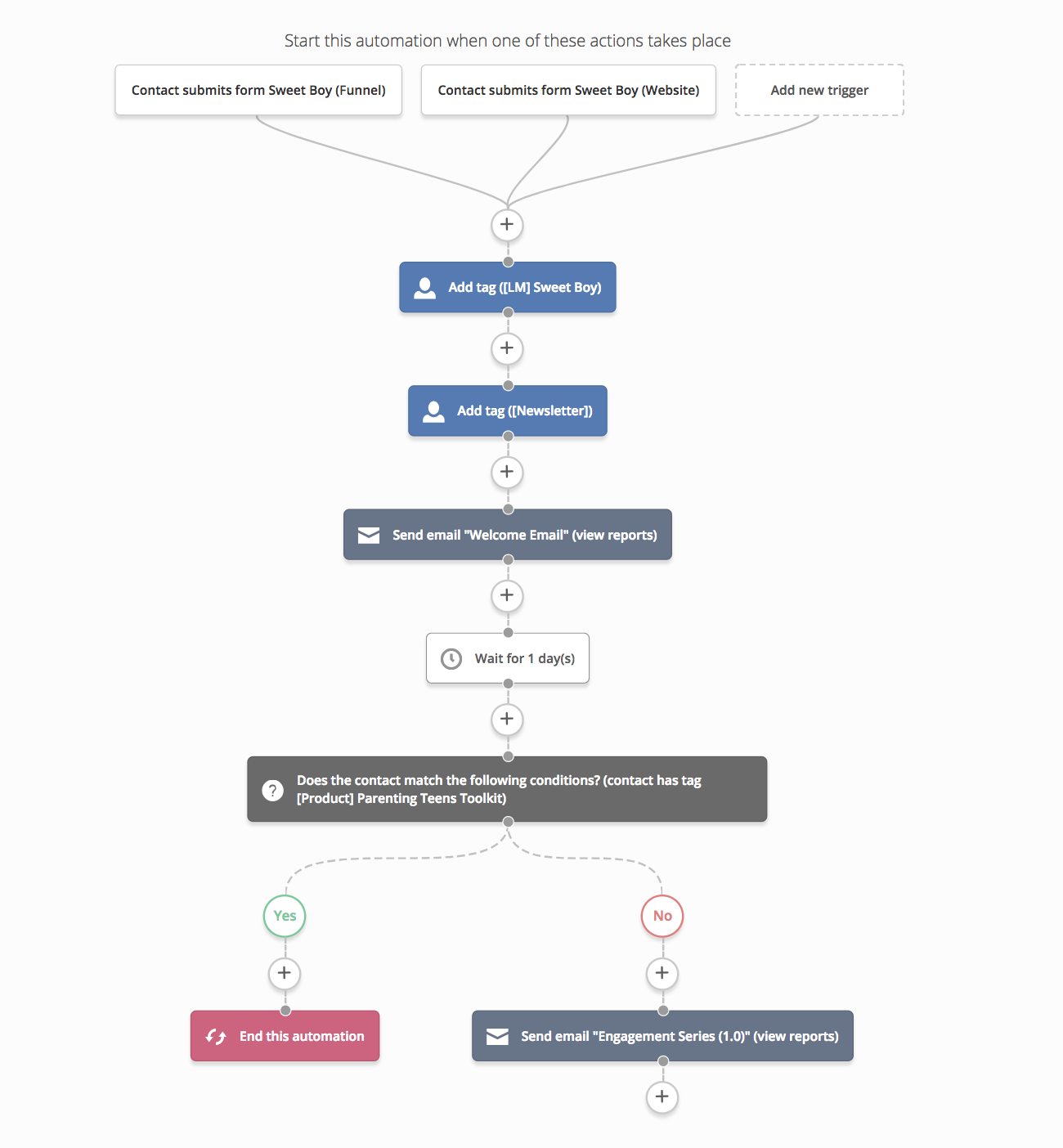 What I don't love:
ActiveCampaign is not nearly as fun to use as MailChimp. It's very business oriented. I miss those MailChimp monkeys!
There is no mobile app to constantly check subscriber counts and open rates. Am I the only one that does that?
There is no free plan. 🙁
Other than those things, ActiveCampaign has been super powerful and easy to use.
What email marketing software do you use? Do you like it? Share in the comments below.
Need help with email marketing? Check out our handy cheat sheet to help you create an effective email marketing strategy!